Add sfxr to your toolbox!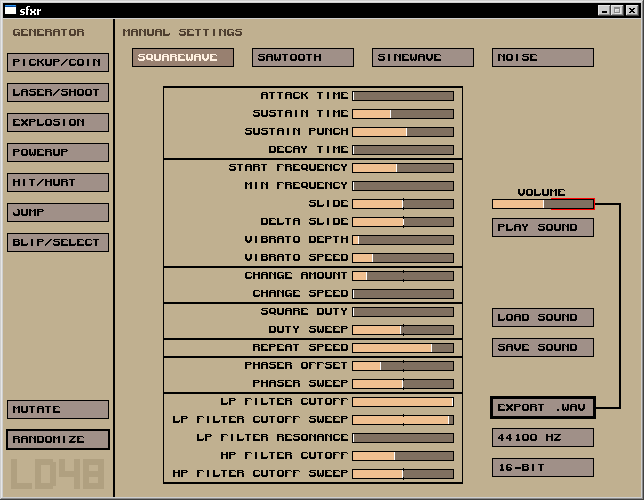 Sfxr is a music tool designed to quickly generate 8-bit sound effect for your retro games or as placeholders for your slightly less 8-bit games. sfxr is another great tool from Dr. Tomas Petterson, Science/Technology student from Sweden.

You can get sfxr here.

"This is a little tool I made in connection with the 10th Ludum Dare competition held in December 2007. Its original purpose was to provide a simple means of getting basic sound effects into a game for those people who were working hard to get their entries done within the 48 hours and didn't have time to spend looking for suitable ways of doing this...

..Basic usage involves hitting the randomize button (or one of the other buttons to your left if you need a specific standard sound), listen to the generated sound, then deciding if it sounds ok or not. If it does, then export it to .WAV and you're done, if not - just hit the button again and get something different."


The program is open source under the MIT license and there is also a mac port (Pictured below).




Source: www.drpetter.se - thirdcog.eu